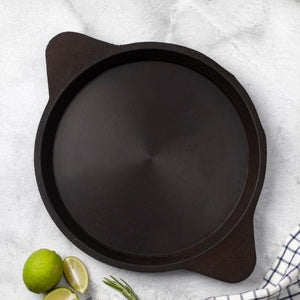 Introducing the Cast Iron Neer Dosa Pan, a versatile and durable cookware essential for your kitchen. Crafted with precision and designed for optimal performance, this pan is perfect for preparing delicious neer dosas, a popular South Indian delicacy.

Measuring 10.5 inches in diameter, this pan comes with a raised tawa and a convenient handle, ensuring a comfortable grip and effortless manoeuvrability while cooking. The handle provides excellent control and stability, allowing you to flip and toss your neer dosas with ease. The sturdy construction of the handle ensures long-lasting durability, even with regular use.

Crafted from high-quality cast iron, this neer dosa pan guarantees superior heat retention and even heat distribution, resulting in perfectly cooked dosas every time. The cast iron construction also provides excellent durability, ensuring this pan will be a reliable addition to your kitchen for years to come.

With a height of 1 inch, this pan allows you to achieve the desired thickness for your neer dosas. Whether you prefer them thin and crispy or slightly thicker and soft, this pan provides the versatility to cater to your personal preference.

Weighing approximately 1.9 kg, this cast iron neer dosa pan offers substantial weight and stability, ensuring it stays firmly in place on your stovetop while cooking. The weight also contributes to its excellent heat distribution, allowing for consistent results across the entire cooking surface.

Invest in the Cast Iron Neer Dosa Pan, and elevate your culinary skills to new heights. Perfectly designed for preparing delicious neer dosas, this pan combines durability, versatility, and exceptional heat distribution to deliver exceptional cooking performance.
Raised tawa with handle 14 inch
Without handle 10.5
Hight 1 inch
Weight 1.9 kg