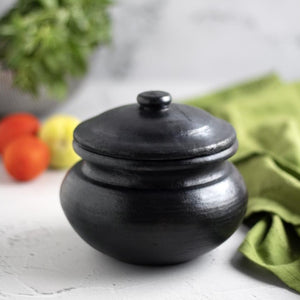 Introducing the Small Blackened Clay Cook and Serve Pot, a charming and functional addition to your kitchenware collection. This exquisitely crafted pot is designed to enhance your cooking experience and elevate your presentation when serving your culinary creations.

With a diameter of 5 inches and a height of 4 inches, this pot is perfectly sized for smaller portions and individual servings. Its compact design makes it ideal for preparing and presenting a variety of dishes, such as soups, stews, curries, and desserts.

Made from high-quality clay, this pot offers exceptional heat retention, allowing your food to cook evenly and retain its flavors. The blackened finish adds a touch of rustic elegance, making it an attractive serving vessel that can be taken directly from the stovetop or oven to the dining table.

Weighing approximately 700 grams, this pot strikes a balance between sturdiness and manageability. It is lightweight enough to handle with ease, while still providing the stability required for safe and reliable cooking.

The natural clay material used in the construction of this pot gives it a unique character and imparts a subtly earthy flavor to your dishes. It is also known for its ability to distribute heat evenly, ensuring that your food cooks consistently throughout.

Not only is this clay pot functional, but it also adds an aesthetic appeal to your table setting. Its sleek blackened exterior and elegant design make it a beautiful addition to any kitchen or dining decor.

The Small Blackened Clay Cook and Serve Pot offers a delightful combination of versatility, durability, and visual appeal. Whether you're cooking a hearty meal for yourself or impressing guests with your culinary skills, this pot is a reliable companion that will bring out the best flavors in your cooking while adding a touch of elegance to your dining experience.
Diameter 5 inch
Hight 4 inch
Volume- 800 ML
Weight 700g