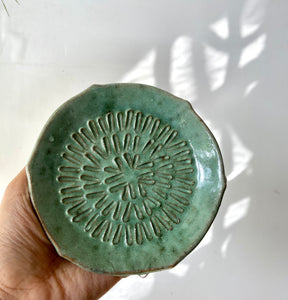 Size - 5inch diameter 

The Grate Plate is a ceramic grating plate used to easily grate garlic, ginger,nutmeg  and so much more. The graters are handmade with stoneware ceramic using food safe clay and glazes. Stoneware is extremely durable, easy to clean and is also dishwasher safe. Our grating surface is softer on your hands so you wont cut your fingers as you would on a traditional metal grater. You will also notice your garlic and ginger grates down to a fine puree, providing the upmost flavor!
We will dispatch the order in 14 -20 days.